Norbert Blank live:
storytelling, multimedia and multivision shows
Norbert Blank presents his images, films and storys on large screens (maximum 8 * 14 meter) set with music, sound and personal live reports. Usually in German language, available also in English and Spanish.
Enjoy the unique experience of his awesome and award-winning multivisions shows and live presentations.
Be part of the adventure :-)
The new s

how: "THE WORLD OF KAYAK"
Whitewater-, sea-, sup- und surf- kayaking in southern and tropical waterworlds
Awesome images, films and storys on our blue planet.
Countrys: Ecuador, Greece, Colombia, Grand Canyon USA and ...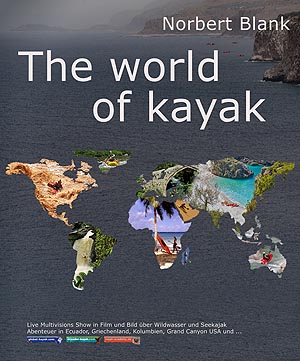 In his new Multivisionsshow, Norbert Blank takes us into the fascinating water world of our blue planet with gripping pictures and films.
In white water and sea kayaks, on stand-up paddle boards and in surf kayaks we discover the tropical rainforest of Ecuador, the picturesque coasts and deep gorges of Greece, the home of the Colombian guerrillas on the Rio Magdalena, the rapids of the Colorado River in the Grand Canyon of the USA ... and much more.
With his impressive pictures and films, the passionate paddler, professional photographer and filmmaker spans an arc from the Amazon jungle over mountains and deserts to the beaches of the Mediterranean.
A multivision show that can hardly be surpassed in terms of variety and spirit of adventure: friends of extreme sports will get their money's worth, as will beginners in canoeing, nature lovers and outdoor freaks, to whom Norbert Blank will bring countries and people closer to the most beautiful spots in the world.
Klaus Riester achieves a special achievement in the Grand Canyon. He does what many would never dare to think: Paddle his whitewater kayak through the mother of all canyons with only one leg for twelve days.
In his tiny boat, will he be at the mercy of the waves and whirlpools of the Colorado River? As a one-legged amputee, how does he manage the hikes into the picturesque side canyons? He sets up his evening camp himself as naturally as this incredible laughter, this joie de vivre and confidence accompanies him.
If you want to see the beauty of our world and the courage to live, you have to see these pictures.
"RUND UM DEN IRAK"
Travelling with a kid and an historic truck through Arabia and Persia
A journalists independent reportage, a real VanLife adventure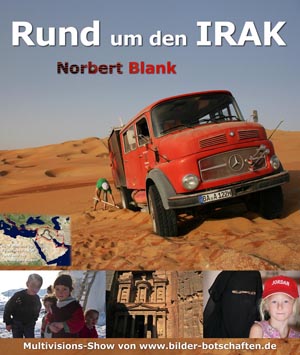 With a kid through the "Axis of Evil" !
Anyone who wants to get to know Persia, Arabia and the Middle East on their own shouldn't be squeamish. The picture journalist and world adventurer Norbert Blank ventures into the "wild" East, unbiased and beyond all media reports.
He starts in our planet's trouble spot in a 40-year-old, converted, historic fire truck - and with his daughter before she starts school.
He is on the road for nine months: depending on the requirements of the route, together with his little Emilia, with good friends or on his own. Actually unbelievable!
Norbert Blank talks about his impressions, about encounters with people, their wishes and everyday life: about apple strudel in the Iranian ski hut, about Dubai's skyscraper canyons and the loneliness of the desert.
At temperatures from minus 30 to plus 60 degrees, his path leads to Kurdish resistance fighters on skis, over sand dunes and salt deserts to the world heritage site of Petra, on a paraglider to the Rub al-Khali and - rather involuntarily - to the basement of the Iranian secret service
The perils of such a wild adventure are manifold. And Norbert Blank reports live how they are solved with the help of bodybuilding studio owners, large business owners and oasis residents.
You can read and see on the 4*4 portal in Switzerland what we "did" with our 4*4 Mercedes long before the big hype of VanLiving. Look at:
https://www.4x4schweiz.ch/2021/08/mit-tochter-und-rundhauber-auf-der-abenteuer-leben-tour/
"EIN JAHR - DREI RÄDER"
One year crossing Latin America from north to south on a motorbike with sidecar
Countrys: From Mexiko to Patagonia, a lot of Latin America
Best Adventure: winner of the international festival "el mundo"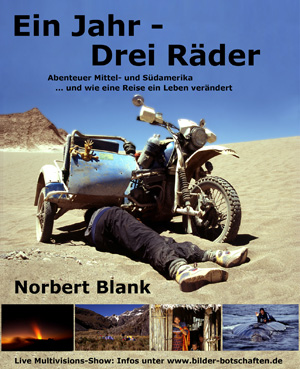 Short Film

"HORSE POWDER KYGRYZSTAN"
Ski freeride adventure with horses in Tien-Shan mountains
Country: Kirgistan, Kyrgyzstan in Central Asia
Language: German, Kyrgyz and Russian with Englich subtitles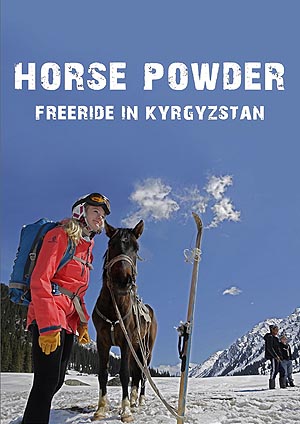 A review of earlier multivisons shows and events
Ghana, Cuba and HORIZONTE Festival: